Welcome on my medical website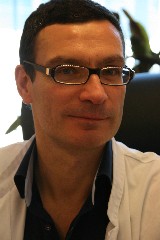 Dr. Benoît VOGT
Urologist
----
Surgeon of Hospitals of Paris
ORCID (Connecting Research and Researchers):
ORCID's Informations
These English pages are designed to clearly explain my passion for diseases of the ureter and the challenge of treatment.

In our institution, I work to improve patient's comfort because illness and treatments with stents are uncomfortable.
I have created new stents to reduce the patient's suffering. These are the JFil® and the MiniJFil® stents.
I continue to work to improve the ureteral stents and their risk of obstruction.

You will discover in these pages the advancement of my research.
For each step, I am looking for industrial partners.
You can contact me at: